Official 2014 Teens' Top Ten Tiltes Are Out!
Click on the title to see the book in our catalog. If there is no link, don't worry! The book is not here yet but will be soon... Scroll to the end to find a link to find the complete list of 98 best young adult books of 2014!


Berry, Julie.

All the Truth Thatís in Me.

Penguin/Viking Juvenile, 2013.

Clark, Kristin Elizabeth.

Freakboy.

Macmillan/Farrar, Straus, and Giroux, 2013.

Federle, Tim.

Better Nate Than Ever.

Simon & Schuster/Simon & Schuster Books for Young Readers, 2013.

McNeal, Tom.

Far Far Away.

Random House/Knopf Books for Young Readers, 2013.

Rowell, Rainbow.

Eleanor & Park. Macmillan/St. Martinís Griffin, 2013.

Sedgwick, Marcus.

Midwinterblood.

Macmillan/Roaring Brook Press, 2013.

Sepetys, Ruta.

Out of the Easy. Penguin/Philomel, 2013.

Smith, Andrew.

Winger

.

Illustrated by Sam Bosma. Simon & Schuster/Simon & Schuster Books for Young Readers, 2013.

Sullivan, Tara.

Golden Boy.

Penguin/Putnam Juvenile, 2013.

Wein, Elizabeth.

Rose Under Fire.

Disney-Hyperion, 2013.
Complete list at the American Library Association Young Adult Library Services Association

---
Books Make Good Movies
Check out these books to read before you watch the movie!

While in a coma following an automobile accident that killed her parents and younger brother, seventeen-year-old Mia, a gifted cellist, weights whether to live with her grief or join her family in death.
Watch the Movie Trailer
HERE
Given his lifetime assignment at the Ceremony of Twelve, Jonas becomes the receiver of memories shared by only one other in his community and discovers the terrible truth about the society in which he lives.
View this movie trailer
here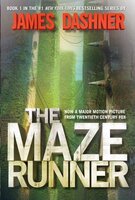 Sixteen-year-old Thomas wakes up with no memory in the middle of a maze and realizes he must work with the community in which he finds himself if he is to escape.
View the trailer for The Maze Runner
here
---