Beekeeping
Wed. 4/19 at 6PM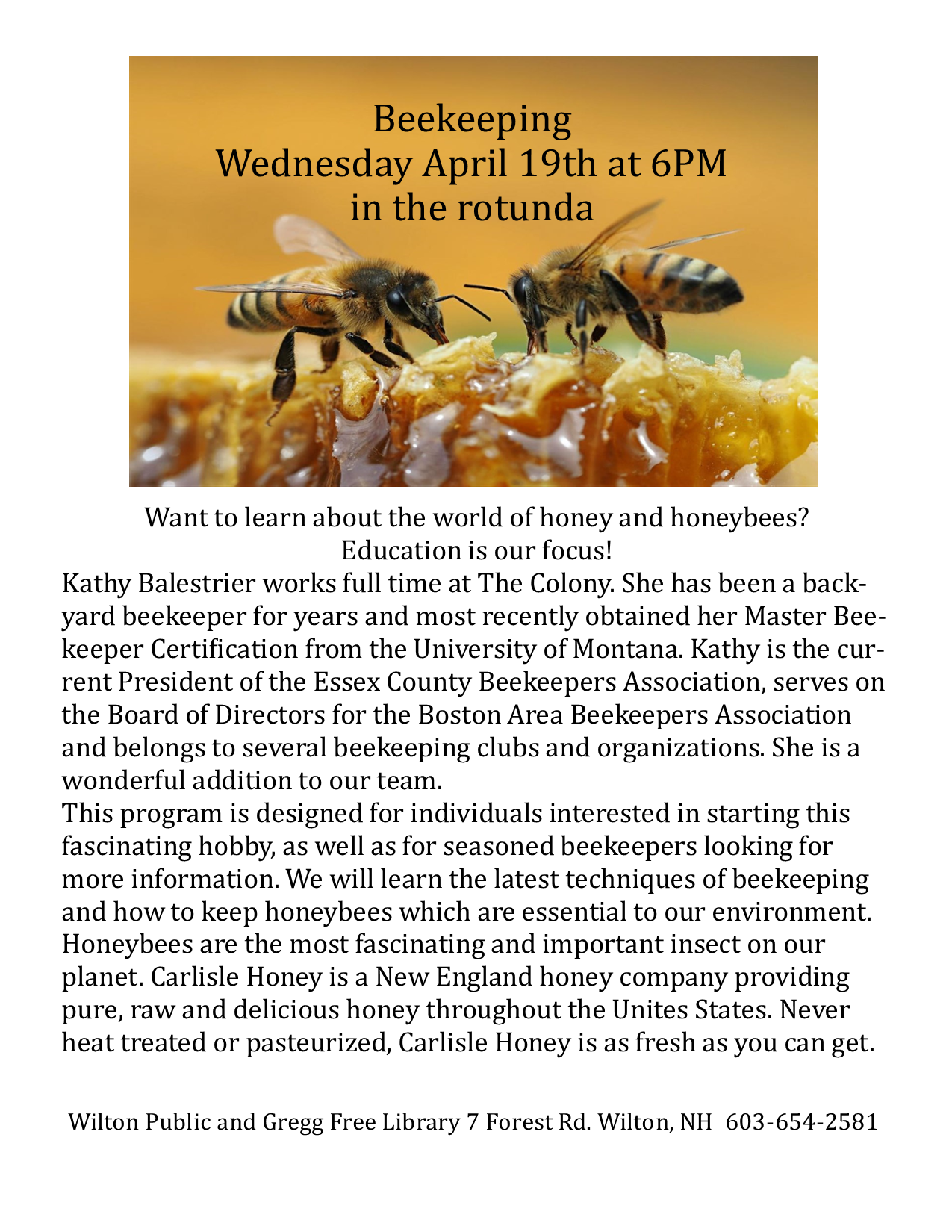 ---
"Peep Up A Good Book" Contest
Beginning April 5th
Create a Peep diorama illustrating a scene from a book or a book title, and write a sentence describing your title and/or creation. Then bring your diorama to the library for our "Peep Up A Good Book" contest. You'll be added to a display in the YA room, and library patrons will vote for their favorite. Each diorama will be entered into one of the following categories:
Children (up to and including age 12), Teen (age 13 to 17), Adult (age 18 and over), Sibling Team (children and teens only), and Family ( how many Peeple on your team?).
If you're feeling a little cooped up, this can be a fun project with only a few rules to follow. All dioramas should be made using a shoebox, Peeps, and whatever materials you have around the house. Only put your first name on your display if you decide to sign it. Bring your masterpeepses to the library between Tuesday April 5th through Saturday, April 8th at noon. We'll need your name/s, diorama title, category, and a contact phone number. Please keep all submissions appropriate for all ages, but feel free to channel your inner comedi-hen.
Voting will take place in person at the library between April 12 and April 20th, and the winner will be announced on April 21st, in person and on our Facebook page. Friends and family may flock to the library, but please only vote once. By submitting your work, you give us permission to post a photo of your diorama on our website and social media platforms. Although this contest is just for fun, winners will be entitled to crow about their achievements. Good (c)luck to everyone!
All peep dioramas must be removed from the library by April 30th.
Click here to see our calendar.
Click here for information about our children's programs.
---
Breeding Season for Backyard Birds
With Steve Hale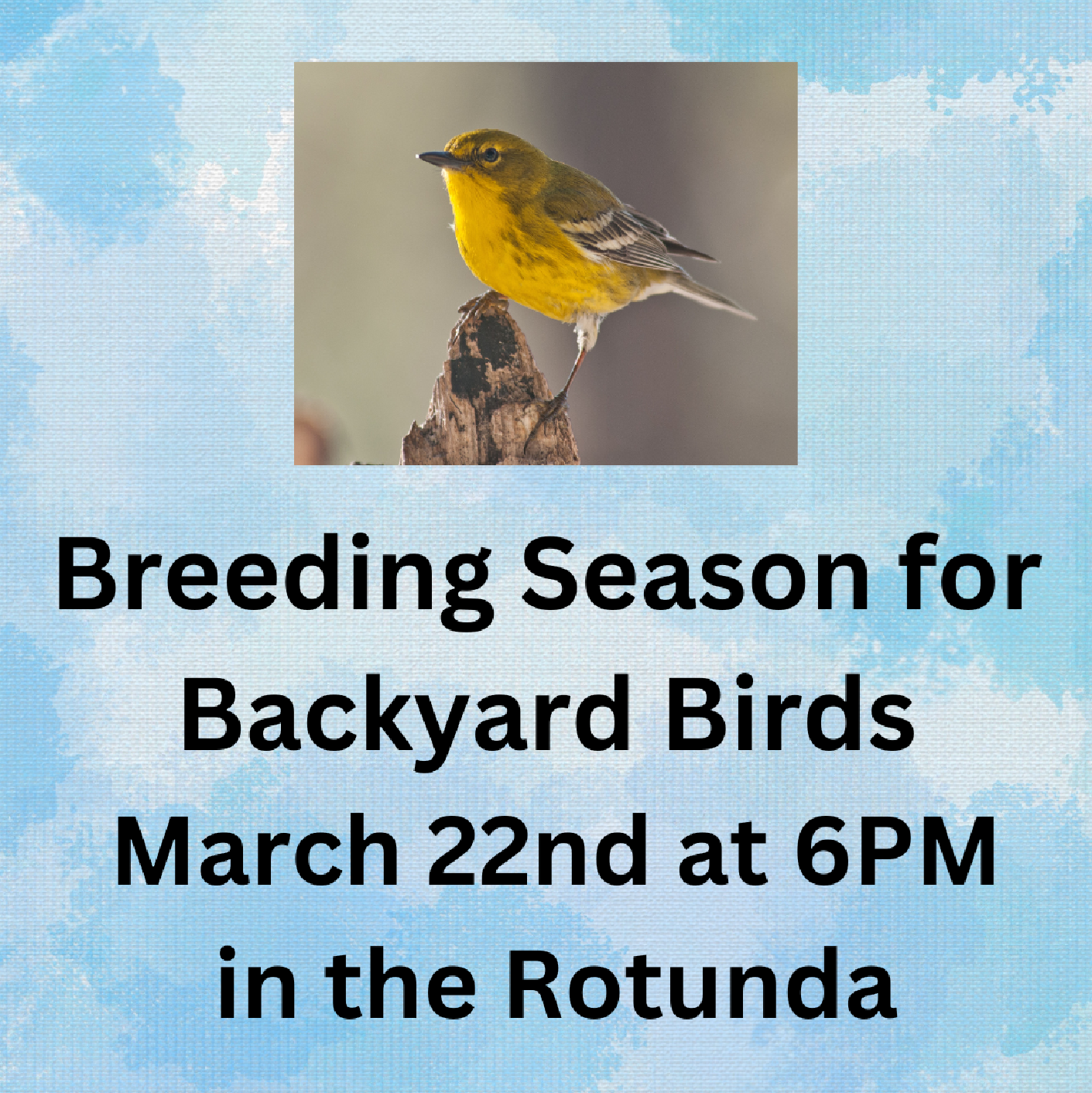 Spring is creeping closer and soon your yard will see a variety of birds setting up house! Come learn more about what you can expect in your own backyard. Owner, Steve Hale, holds university degrees in marine biology, evolutionary biology, and ecology. He has lived in New Hampshire over 20 years and has explored most of the state. An avid hiker, birder, and experienced naturalist, Steve loves to share his experience and knowledge with others.
---
New Hampshire on Skis
Presented by Professor E. John B. Allen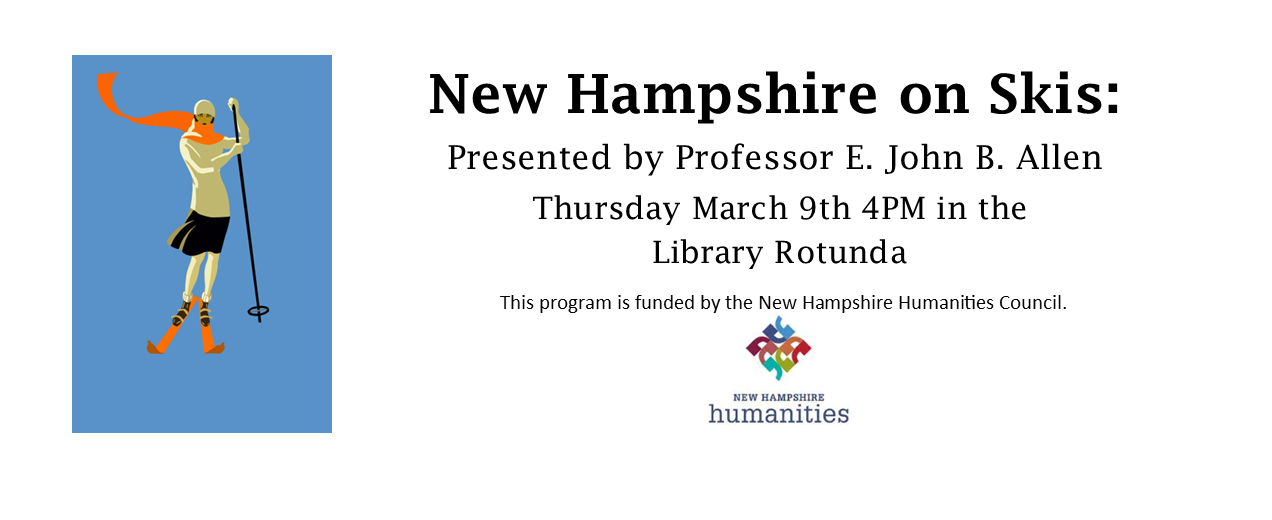 Stop in and enjoy a program that explores New Hampshire's skiing history. Take Scandinavian and Austrian immigrants, the Dartmouth Outing Club, the Cannon Mountain Tramway, the muscular Christian, amateur tinkerers and Professor E John B Allen. Cover it with snow and shake and you have all the makings of an unique New Hampshire history! Join us and learn about early skiing in the state, the importance of jumping , the mechanization of skiing and how New England and New Hampshire fit into the big picture of America's ski culture.
---
New to Medicare- Q&A program
---
Pi(e) Day
While supplies last!
Who doesn't love pi(e)?
---
The Crafters in the Rafters are back!
And more crafty than ever... with a new time and new location
The Crafters in the Rafters encourage portable handcrafts: knitting, beadwork, crochet, patchwork, rug-hooking, felting, cross-stitch...you name it, it's welcome.
Bring your project to the Library on Wednesdays, 1:00-3:00 pm. We meet downstairs in the YA room, or meet up online: https://us02web.zoom.us/j/85156049045 (Click the link on Wednesday at 1:00 to enter the next online meeting.)
For your convenience, the elevator is available as well as the stairs. Ask at the front desk if you have questions.
---